Local Arrangements Committee
Cara Inagaki Doyle, NC State University
Randy Bitting, Handshake
Brittany Arthur, University of Cincinnati
Lena Carr, Linn Benton CC
Valerie Matta, Career Shift
Julie Hutt, University of South Carolina
Devon Wilson, NC State University
Molly Weller Thompson, Metropolitan State University of Denver
Shannon Jost, Wilmington University
We look forward to having you in Charleston!
---
Join us for these Planned Activities
Walking/running club each morning
Yoga and/or personal training
Nearby museums, including the Patriots Point Naval & Maritime Museum, the Charleston City Market, South Carolina Aquarium
Charleston Culinary Tour – walk, talk and taste your way through Charleston
Bulldog's Tours Ghosts and Graveyards – Exclusive access to the Provost Dungeon, Old City Jail, and the oldest graveyard in Charleston – 20 people max, $20 per person
Old Walled City Tour – Carriage Tour – any time after 5:30pm – $15 per person, 16 people per tour
Adventure Harbor Tours – Sunset Cruise – 24 person capacity, two hours, mild tour (BYOB) – $24 per person
Holy City Bar Crawl (Info will be provided at check-in) -Jack Soto
Monday Night Dining Out in Charleston – options provided at check-in
Purchase CEIA t-shirts! Only $10.00
---
Show your CEIA pride – buy an official CEIA t-shirt!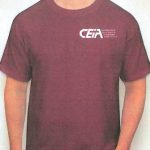 100% cotton. Available in unisex sizes S, M, L, and XL.
Available for pre-purchase with pick-up at registration at the Charleston conference.Not available for individual shipping at this time.
Cost: $10.
---
Bulldog Tours Ghosts and Graveyards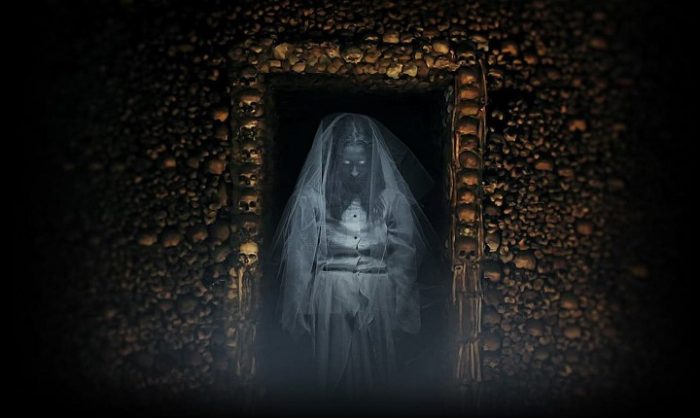 Tuesday, April 17, 7:30 – 9:00 pm
Meet in the Hotel Lobby
Cost: $20
Limited to the first 20 attendees
Come and walk with us when the sun goes down, and you'll get an exclusive opportunity to walk inside the gates of one of Charleston's oldest graveyards after dark. When all the other walking tours are looking in through the wrought iron fence, you'll be on the inside. Explore the graveyard's dark corners, closely inspect the headstones to see what you might learn, and take a moment to step across the graves — if you dare. Learn about the history of Charleston's graveyards, and hear the stories of the famous individuals who found their final resting place in the Holy City.
Hear about Charleston's spirits and gruesome tales:
The ghost of Sue Howard, a grieving mother who prays at the grave of her dead child from the spirit world. We've got the picture to prove it!
Tales of being buried alive! Doctors in old Charlestowne didn't take chances with contagious diseases. Fall unconscious in a hospital, wake up in a grave!
Learn why the terms saved by the bell and graveyard shift were coined. You'll be glad you weren't around when they were!
Don't forget your flash cameras! You never know what phantom images you can capture…
We will meet in the lobby of the hotel @ 6:15PM and catch a bus downtown.
---
Sunset Cocktail Cruise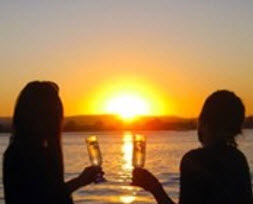 Tuesday, April 17, 6:30 – 9:00 pm
Meet in the Hotel Lobby
Cost: $24
Limited to the first 24 attendees
Join your colleagues for a "MILD Sunset Cocktail Cruise"…. So, this year, Adventure Harbor Tours offers what they call a MILD version of a sunset cruise, a little more laid back option of our very popular Sunset Cocktail Cruise. It's still BYOB, and you're still encouraged to bring your coolers, but this 90 minute cruise around the harbor will be a little more narrated, a little more scenery oriented and a little more chill for those of you who don't want to be cooped up on a boat with 60 partying younger people.
As they sail from the marina, they make sure to pass by the historic waterfront to view the beautiful homes, swing by the Battery, swing over by the big bridge and a fly-by of the USS Yorktown before maneuvering back into the Ashley River to watch the sun go down. All this while relaxing to chill Caribbean sounds interspersed with fact and history about what you're viewing. We will meet in the lobby of the hotel @ 6:15PM and catch a bus downtown.
---
Old Walled City Tour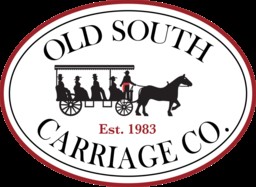 Tuesday, April 17, any time after 5:30 pm
Meet in the Hotel Lobby
Cost: $15
16 people per tour
Join your colleagues for a historic carriage tour. Old South Carriage Company, owned and operated by the same family since 1983, features some of the finest tour guides, draft horses, and carriages in historic Charleston. Stop by their stable at 14 Anson Street to meet their professional staff and see for yourself the quality of their operation. Not only are their tour guides extensively trained, but when you see their stable, horses, and carriages you will immediately appreciate the care and attention to detail that Old South Carriage Company dedicates to guarantee a quality tour and a wonderful carriage ride. We will meet in the lobby of the hotel @ 5:00 PM and catch a bus downtown.