UPDATE: CEIA CONFERENCE REGISTRANTS
As we begin the process of executing financial transactions due to the cancellation of the 2020 Annual Conference, CEIA has created a Questionnaire for all PAID conference participants (including Conference attendees, Sponsors, Exhibitors, Advertisers, Academy Pre-conference attendees and Padres Baseball game ticket holders). We are requiring you to complete this questionnaire before we can begin the process of deferring or refunding financial transactions.
We are asking registrants NOT to contact the CEIA Administration office. Remember, this is a one-person office – we are not set up for rapid processing of requests. We estimate it may take a month or more to process all financial and contractual obligations. If we have questions, we will contact you directly.
You will be asked a series of questions to clarify your request to either Defer your conference related payments for a future CEIA Event, make a Donation to our Student Fund, or secure a Refund. This will be required before any transactions can occur (All refunds will be credited to your original form of payment.).
NOTE:
• There is no refund available for membership dues. (This is also included in all nonmember participant registration fees.)
• If you choose to defer your payment to next year's CEIA conference in Tampa, FL, April 18-20, 2021, you will not incur any additional registration fee should the cost increase. In addition, you will not be credited for any differential rate level.
Please take a few minutes to complete this questionnaire so we can begin this process. We encourage you to consider deferring or donating your conference registration, sponsorship, etc. in lieu of a refund – this is explained in the questionnaire linked here: https://www.surveymonkey.com/r/2020_CEIA_Conference_Cancellation
Rest assured we are working to provide assistance to our CEIA members who are going through challenging times.
Thank you for your continued support,
PEGGY HARRIER, Executive Director and Past President
---
ATTENTION ALL CEIA CONFERENCE REGISTRANTS:
On behalf of the CEIA Board of Directors, it is with great sadness that we have to announce that the 2020 CEIA Conference "Coast to Coast: Empowering Student Success" will not take place in San Diego, CA this year March 29th-31st. This was a tough decision, but we are committed to do our part to help protect our members. While we are disappointed to cancel this event, we believe it is the right decision given the uncertainty of COVID-19 and changing travel conditions.
We are currently exploring a virtual online experience for conference registrants. Additional information will be forthcoming.
All registrants will have the ability to:
• Defer your registration toward a future CEIA event; or
• Receive a full refund
We understand many of our member institutions and employers have put travel restrictions and contingency plans in place to keep colleagues, students and family safe. Because CEIA is committed to your professional development, we are working on providing an online forum for those that have worked so hard to prepare presentations for the conference. Additional information will be provided in May.
Though the March 2020 Annual Conference will no longer take place in the way that we intended, we continue to strive toward our mission of being the leader in work-integrated learning.
Yours in good health,
Julie Hutt
President, Cooperative Education and Internship Association
---
FAQs:
What about my registration fee?
We are asking for your patience in the next few weeks as we work on a process to defer your registration for a future CEIA event or process a refund. This process will take some time as Peggy Harrier is the only person who can handle these financial transactions. Additional information will be forthcoming.
What about advertising space or donations?
We would like to apply your ad or donation to next year's conference in Tampa, FL 2021. In addition, plans are currently being formulated to provide all vendors and sponsors additional opportunities through our online professional development platform.
What about my hotel?
You will need to call the hotel to cancel.
What about my flight?
CEIA understands you may have bought a nonrefundable airline ticket. When you call the airline, be sure to tell them that your conference was canceled. Some airlines have been lenient due to COVID-19.
What steps did CEIA take before this action?
CEIA leadership has been discussing COVID-19 since early February. We have been in contact with our
hotel consultants, emergency management experts, insurance providers and reviewing CDC guidelines
daily. In addition to the hotel procedures that were going in place, we purchased hand sanitizers for each
conference attendee which will be become a part of future CEIA conferences.
Why was the decision made now?
We are committed to do our part to help protect our members. With the uncertainty of COVID-19 and
many registrant restrictions on travel we thought it was wise to make the decision now to give members
time to change flights, hotels, car rentals, etc.
I won an award. Will I still receive it?
Yes, it will take us a while to process these, but the awards this year are still being given. We will be
highlighting all award recipients online.
What if I was scheduled to present?
Congratulations on your presentation acceptance! Our professional development team will be in touch
regarding potential webinars and podcasts in the future.
What can I do to help?
Great question! First please be patient as we sort out the logistics of canceling our annual conference.
Except for our Executive Director and Treasurer, CEIA is an all-volunteer association, please send a virtual high five or fist bump to one of our many conference volunteers. Be on the lookout for additional information regarding professional development opportunities.
*********************************************************************************************************
Overflow Hotel SOLD OUT
We have secured an overflow hotel close by (5 minute walk). Please contact them for a reservation now!  (Rooms available for March 27 through 31, 2020)
Reservation Cutoff: March 12, 2020
Hotel: The Westin San Diego Gaslamp Quarter
Address: 910 Broadway Circle, San Diego, CA 92101
CEIA Conference Registration Rate: $209/night
Applicable Taxes: Guestroom tax is 10.695% occupancy tax, and 2% SDTMD Assessment, for a total of 12.695%
Reservations: Call 888-627-8563 direct or use this booking link:  https://book.passkey.com/go/CEIA  Be sure to refer to room block for "CEIA" when making a reservation.
**********************************************************************************************************
CEIA Conference Hotel and Address   SOLD OUT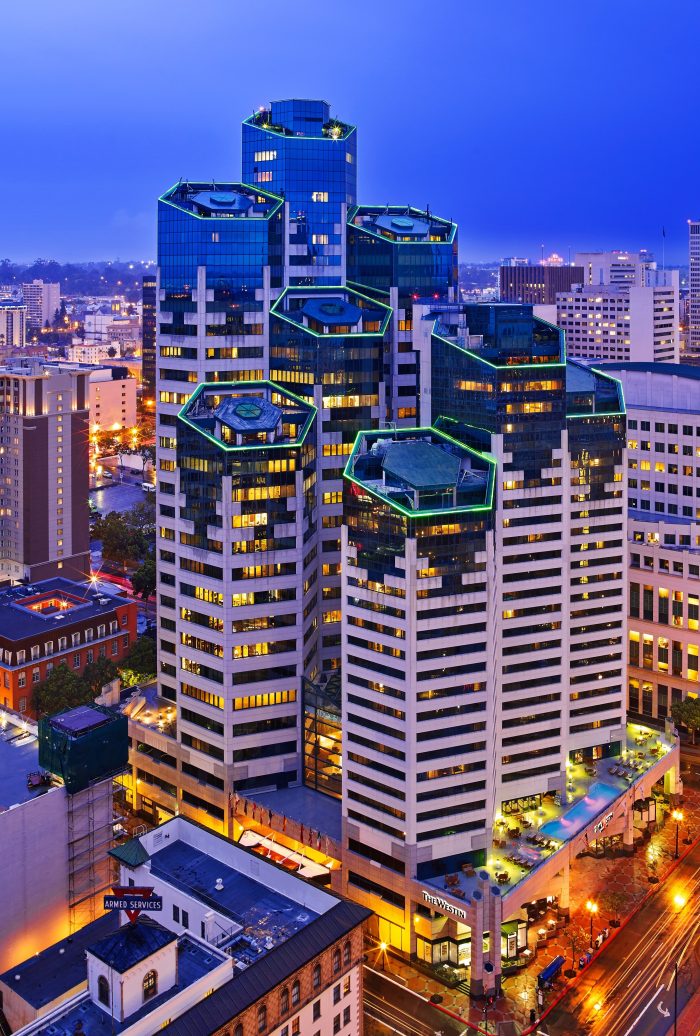 Hotel: The Westin San Diego  
Address: 400 West Broadway, San Diego, CA 92101
Reservations  SOLD OUT
CEIA Conference Registration Rate: $209/night
Applicable Taxes: Guestroom tax is 10.695% occupancy tax, and 2% SDTMD Assessment, for a total of 12.695%
Deadline for Conference Registration Rate: Thursday, March 5, 2020
Call: 1-888-627-9033 and reference the "CEIA Conference – Attendees" to check on availability due to cancellations.
Check-In Information
Check-In: 3 p.m.
Check-Out: 12 p.m.
Distance between the SAN Airport and Hotel
Airport Shuttle (SAN only) provided by the Hotel
Hours: 6 am – 11 pm daily
San Diego International Airport to Hotel: Call the hotel operator at (619) 239-4500 once you have retrieved your luggage. The operator will direct the group to the appropriate waiting area and will give you an ETA on the shuttle arrival.
Hotel to San Diego International Airport: Guests must sign up with the bell stand 24 hours in advance, and is based upon availability
Estimated Taxi Fare from SAN Airport
From San Diego International Airport (SAN): Estimated taxi fare: 10 USD (one way)
Ride Share Options (not an exhaustive list)
Remember to review the pick-up locations for mass transportation and ride share at SAN before traveling. Pick-up locations at airports may change frequently. 
Driving Directions from SAN Airport to Hotel:
Exit the airport onto Harbor Drive/downtown
Turn left onto West Ash Street
Turn right onto Kettner Boulevard
Take the first left onto West A Street
Turn right onto Columbia Street
The hotel is on the left
Hotel Parking Rates  
Self-Parking: Self-parking options are also available within the vicinity of the hotel but are not associated with the hotel. All parking rates are subject to change.
Valet Parking: $50/day with in and out privileges for hotel guests
Parking rates are subject to change
Hotel Internet Access
Complimentary internet access will be available in guest rooms, but not in meeting room spaces.
If you have any problems with your hotel reservation or room, please contact:
2020 CEIA Conference Chair
Andrew D. Harper
St. Edward's University
512.448.8572
andrewh@stedwards.edu