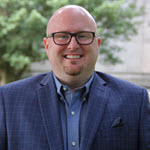 Joseph "Joe" Catrino, director of career development and special assistant to the vice president for innovation at Trinity College, works to expand career development services while creating an ecosystem of design thinking and innovation across the college for Trinity students and for the college's partners, including Infosys.
Catrino joined Trinity in 2015 as senior associate director of marketing in the Division of Enrollment and Student Success, playing a critical role in Trinity's enrollment success and transforming the division's strategies around marketing, outreach, and strategic communications. In 2017, he became director of career development and managed the strategic direction of the department, working closely with students, alumni, faculty, parents/families, employers, and staff.
Catrino also has taught in the first-year seminar program, advised students, mentored student interns, and worked to develop Trinity's new design thinking initiatives, which he continues to lead. He also serves as a member of the college's Infosys Advisory Group.
Prior to Trinity, Catrino spent nine years at Quinnipiac University, where he served for more than four years as the assistant dean for career development in the School of Communications. He also has held teaching positions at Quinnipiac and the University of Hartford. Catrino serves on the Board of Directors of the Cooperative Education and Internship Association (CEIA) as vice president of professional development and is set to be a facilitator at the Stanford d.school in summer 2019. He is a frequent presenter at regional and national career-related conferences. His most recent publication, "A New Approach: How to Prepare Students to Exceed Expectations in Internships" for the Association for Education in Journalism and Mass Communication, highlights his passion for helping students thrive through experiential learning.
Catrino earned an M.B.A. from Quinnipiac University, an M.A. in communication from the University of Hartford, and a B.A. in history and communications/public relations from Marist College.
Joe Catrino, MBA, MA
Director of Career Development & Special Assistant to the Vice President
Trinity College
Office: 860.297.2235
joseph.catrino@trincoll.edu
---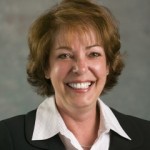 Peggy Harrier, M.Ed.
At Cincinnati State Technical and Community College, Peggy Harrier is a former Dean of Business where she supervised a mandatory co-op component for 20 majors. She also had management responsibilities for 50 fulltime faculty and 200 adjunct instructors. Peggy was also a Chair of the Business Technologies Division, where she had management responsibilities for the Management, Marketing and Real Estate programs and coordinated a mandatory co-op component for students. Cincinnati State College maintained the largest co-op program among two-year schools in the US and remained in the top ten of all co-op programs in the country for over 25 years. Having worked as a co-op coordinator early in her career at the college, she was a tenured faculty member teaching Business Law, Ethics, Co-op Seminar and Professional Practices. As a licensed Real Estate Broker, Peggy had experience in both industry and education. She earned a BA degree from St. Mary's College, Notre Dame, Indiana, as well as a Master of Education degree from Xavier University. She retired from Cincinnati State College in 2013 and was associated the college for over 30 years.
Peggy joined the CEIA Board in 2000 where she has served the Association as a board member for the past 19 years. Accomplishments to note include, preparing and distributing national state of the profession surveys, leading the reorganization efforts for the Journal of Cooperative Education and Internships, serving as President 2004-05 and chairing two conferences, including co-chairing the 2006 centennial celebration. She was instrumental in securing a collaborative agreement for the production of the Journal of Cooperative Education and Internships with WACE, NCCE and CAFCE. She also initiated strategic partnerships with WACE and NCCE for projects being conducted in the field and has assisted CEIA with the development of an interactive website. Peggy is a CEIA Academy trainer, specializing in quality improvement processes. CEIA honored Peggy with the Dean Herman Schneider Award in 2009.
Peggy Harrier, M.Ed.
CEIA Executive Director
peggy@ceiainc.org
513-793-2342
---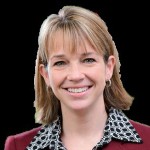 Julie Hutt, MA
Julie Hutt began working at the University of South Carolina in 2006 and joined the University of South Carolina Honors College in 2015 to serve as the Director of Internship Programs and Academic Advisor. Understanding the value of an internship experience, she interned with the Walt Disney World Company and 2002 Salt Lake City Winter Olympics during her graduate and undergraduate career. In addition to her role in the SCHC, Julie has taught University 101 since 2007.
Prior to joining the Honors College, Julie worked at Elon University for 5 years as the Associate Director of Campus Recreation, Program Director for Faculty & Staff Wellness Programs at the University of South Carolina, and the Assistant Director for Experiential Education in the USC Career Center. Julie currently serves on the Cooperative Education and Internship Association (CEIA) Board of Directors is a graduate of the National Association of Colleges and Employers (NACE) Management Leadership Institute and received the University Of South Carolina Division of Student Affairs Continued Excellence Award in 2013.
Originally from Chicago, Julie graduated from Western Michigan University (B.S. & M.A) and holds a Graduate Certificate in Public Health from the University of South Carolina. Julie is married to a handsome fellow from New York, enjoys spending time on Lake Murray with her son Finley (4) and daughter Charlotte (2). A certified group exercise instructor and personal trainer since 1998, Julie remains active in the fitness industry and enjoys teaching group exercise classes.
Julie Hutt, MA
Director of Internship Programs and Academic Advisor
South Carolina Honors College
JHUTT@mailbox.sc.edu
803-777-1180
---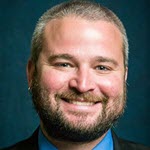 Zach Osborne, M.Ed.
Zach Osborne is currently the Associate Director of Career Development at Nova Southeastern University, a private institution located in Fort Lauderdale, FL. Within the context of the larger Office of Career Development, he manages a team of Experiential Education & Learning Career Advisors who are responsible for guiding the institutions nearly 6,000 undergraduate students through a mandatory experiential learning program that combines classroom- and field-based components.
Prior to coming to Nova Southeastern, Zach served as Director of Internships, Career Services, and Study Abroad at Menlo College, a private institution near San Francisco, CA. There in addition to the general career services and study abroad services, he started and led a mandatory internship program which saw nearly 200 students per year complete full-time internships in the field and participate in a concurrent internship seminar course.
Zach got his professional start in the field of experiential learning at the University of Cincinnati, a public institution in Cincinnati, OH, where he held positions within two different programs: cooperative education and internships. On the co-op side, Zach managed the long-running co-op program for Architectural Education Technology and Construction Management students. When he made the switch to internships at UC, Zach started and ran the Academic Internship Program, which served to expand experiential learning to majors for which co-op was not an option at the institution.
In total, Zach has over thirteen years of professional experience in the field of experiential learning. This following his true entry into the field as an undergraduate student at the University of Cincinnati where he completed co-op rotations with Chiquita (yes, the banana company) and General Electric Aircraft Engines – where he held his first job following his undergraduate graduation.
Zach has been a member of CEIA since 2006 and during his membership has served on the Board of Directors as the Region 7 Vice President, presented at CEIA Annual Conferences, facilitated the CEIA Academy, and helped with the annual conference as a member of the Conference Committee.
Zach holds a Master of Education, Curriculum & Instruction and a Bachelor of Business Administration, Operations Management – both from the University of Cincinnati.
Zach Osborne, M.Ed.
Associate Director
Career Development
Office: 954.262.7191
zach.osborne@nova.edu
nova.edu/career