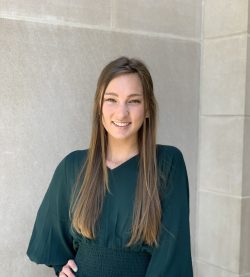 Gwen Yetter is both a senior and first-year MBA candidate at the Pennsylvania State University. Through the five-year accelerated BS/MBA program, she is double majoring in Biology and Psychology while minoring in Neuroscience. As she works to complete her MBA, she is concentrating in Marketing and Supply Chain.
Gwen's co-op experience was with Merck & Co., a leading pharmaceutical company. She worked closely with the U.S. Benefits and Wellbeing department. Primary responsibilities included developing corporate campaigns and new initiatives meant to improve the mental health and overall wellbeing of employees and their families on a global scale.
Prior to her co-op, she worked as an intern for Merck's Global Population Health team. She was also the Communications and Marketing Intern at the Hepatitis B Foundation in Doylestown, PA. Outside of her academics and professional experiences, she is a student volunteer for Penn State's THON, the largest student-run philanthropy. Most recently, she served as the Outreach Coordinator for the Communications committee.