Greetings from Our President
2019-2020 CEIA President, Julie Hutt, University of South Carolina, would like to share a few words of welcome with CEIA members!
2019 CEIA Academy & Life Design Thinking, a Great Success!
32 WIL professionals attended the academy June 11-13 at the Manor Lodge in Vail, CO. The new format created by Joe Catrino and Zach Osborne incorporated Life Design Thinking, proved to be a success. CEIA Academy 2019 attendees were introduced to design thinking and Stanford University's award-winning, paradigm-shifting curriculum of designing your life.
Read More about the Academy and Life Design Thinking!
#CEIAinSanDiego for #2020CEIA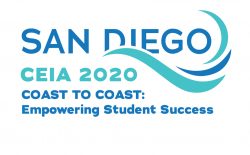 Registration is now open for the 57th Annual Cooperative Education and Internship Conference. This year's conference will celebrate the heart of our profession: students. Coast to Coast: Empowering Student Success will serve as the central theme to highlight accomplishments and new strategies of expanding access to quality, work-integrated learning experiences.
For more information and to register please visit: https://www.ceiainc.org/events/annual-conference-2020/
CEIA signs first-ever Global Charter for Co-op and Work-Integrated Education
More than 50 university presidents, education association executives and high-ranking government officials, including CEIA, convened at the birth place of cooperative education, the University of Cincinnati, to sign the first-of-its-kind Global Charter for Co-op and Work-Integrated Education.
Upcoming Events
Don't miss out on these upcoming events!
CEIA Webinar: Legal Issues in Experiential Learning
Michael Vitlip, J.D., Director of Legal and STEM Professions Advising, Franklin & Marshall College
August 21, 2019
1:00 P.M.
CEIA Webinar: Strategies for Submitting CEIA Award Nominations
Tracey Lord, Florida State University
Molly Weller Thompson, Metropolitan State University of Denver
September 10, 2019, 1:00 P.M.
Drexel's Work Integrated Learning Assessment Workshop
September 11, 2019
CEIA Virtual Career Fair
October 8, 2019
11:00 A.M. – 3:00 P.M.
---