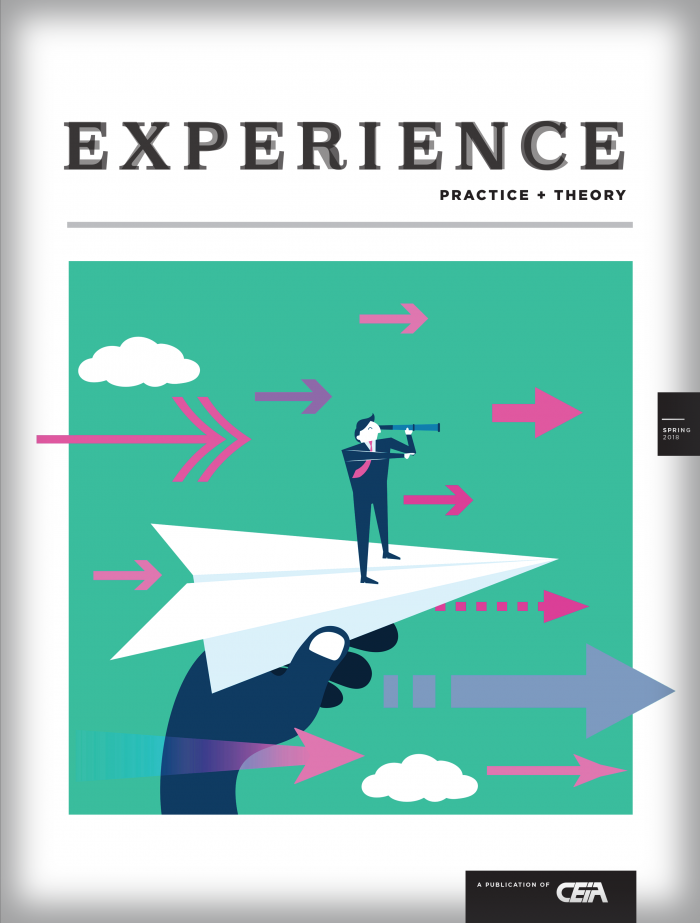 Preview Only (Click Image for Preview)

For full Spring 2018 articles, click Members Only Area .
Not a CEIA member? Click here to Join now.
Experience Magazine: Practice and Theory features academic and practitioner submissions that cover best practice highlights, field trends, how-to articles and relevant information and resources for scholars and practitioners in the field of experiential learning. The audience for this publication reflects the diverse global field of experiential learning and will provide evidenced-based and practitioner-orienteered resources for a wide array of experiential learning stakeholders.
Submit An Abstract
Style Guide
Contact
Michael Sharp, Senior Editor
513-368-1198
Editorial Team
Kathy Jordan, Associate Editor, kathryn@vt.edu
John Thomerson, Associate Editor, hausmajp@mail.uc.edu
Jennifer Sharp, Associate Editor, jensharp14@me.com
Paula Harper, Associate Editor, harperpr@ucmail.uc.edu
Cheryl Cates, Research Director, CATESCL@UCMAIL.UC.EDU
Erik Alanson, Digital Marketing Director, alansoek@ucmail.uc.edu
Lisa Barlow, Creative Director, barlowlm@UCMAIL.UC.EDU
Andrew Caudill, Student Voice Editor, caudilaw@mail.uc.edu
A special Thank You to the Experience Magazine reviewers and supporters:
Megan Lamkin (University of Cincinnati)
Melanie Buford (University of Cincinnati)
Heather Nester (University of Cincinnati)
Rich Robles (University of Cincinnati)
Sheva Guy (University of Cincinnati)
Kate Darcy Hohenthal (University of Hartford)
Jill Litschewski (California State University San Marcos)
Theresa Lyon (Grand Valley State University)
Sincerrai Gentry (University of Cincinnati)
Aaron Profit (University of Cincinnati)
Tamika Odum (University of Cincinnati)
Jody Ballah (UC Blue Ash)
Svetlana Galvez (The Economic Society)
Catherine Willoughby (UC Blue Ash)
Kristen Haddad (University of Cincinnati)
Siobhan Taylor (Springer School & Center)
Doe Gavin (University of Cincinnati)
Sponsorship
For sponsorship and advertising opportunities, please contact Experience.Magazine.CEIA@gmail.com.