Olivia Allen, Cincinnati State Technical and Community College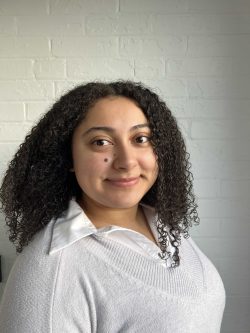 Olivia Allen attended Cincinnati State Technical and Community College. She began her coursework at Cincinnati State while still in high school. She completed 15 credit hours as part of College Credit Plus, a dual enrollment program. Olivia enjoyed her classes and professors so much that she decided to finish her degree at Cincinnati State. She graduated summa cum laude with an Associate of Arts degree in December 2022. She has enrolled at the University of Cincinnati and will be a junior when she begins classes in May. She is pursuing a bachelor's degree in Sociology.
Olivia was in the Honors Program and on the Dean's list all semesters. She was also an officer of the Cincinnati State chapter of Phi Theta Kappa. She enjoyed representing other students, meeting with advisors, and planning events.
Olivia completed her internship experience at the Cincinnati Museum Center, where she worked in the Human Resources department for five months. The experience was incredibly impactful. Olivia learned she could trust her abilities and gained confidence. She saw the importance of working towards the same goal and that each person's contribution allows larger objectives to be achieved. Olivia took on greater responsibility throughout her internship. She reviewed resumes, checked applicant references, onboarded new hires, and learned new computer systems. She also revised the museum's organization charts and completed a national salary survey.
Olivia is grateful that Cincinnati State provides this incredible experiential learning opportunity to all students. She truly appreciates the knowledge and guidance shared by her co-op coordinator and Cincinnati State's Career Center. Olivia learned so much through the hiring process and loved her time at the Cincinnati Museum Center. She will take all the insights and skills she learned as she moves forward. She may even pursue a career in human resources!