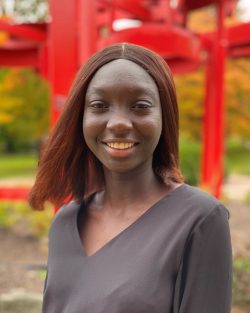 Oluwatumininu (Tumi) Adeeko is a third-year student and a Mechanical Engineering major at Youngstown State University, originally from Nigeria. Tumi was selected as a Wen H. Ko summer intern to work with the Advanced Platform Technology (APT) Center at the Cleveland VA Medical Research and Education Foundation from June 2021. Her first project, titled the "Mechanical characterization of nitinol wires used in orthodontia," involved tensile and fatigue testing, failure analysis, and mechanical characterization of different grades of shape memory alloys used in making dental archwires. Her work provided additional data for an ongoing study into the same topic and will be crucial in helping clinicians determine the appropriate materials to use for different stages of orthodontal treatment.
A notable achievement is her participation in "Intersections," a symposium hosted by Case Western
that enables undergraduates to present their research and creative projects. Her second project contributed to developing a novel medical device, and most of her work involved optimization of tests prints using a Nanojet Aerosol printer- the first of its kind at Case Western.
Tumi remains on the Dean's list for all her semesters at YSU and has made several appearances on the President's list. She was the leader of the team that represented Youngstown State University at the Hult Prize- a competition which can be likened to the Nobel Prize for college students- and she led her team to the finals.
Tumi plans on continuing her research in shape memory alloys while earning her master's and potentially a Ph.D. in Materials Science and Engineering. Tumi has plans to return to her home country, where she will continue her work with materials science and engineering while supporting efforts to empower the youth and encourage young Nigerian women to get interested in STEM.