2021 CEIA Award Recipients
Dean Herman Schneider Award – Educator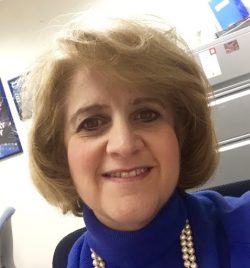 Kelly Harper is the Manager of the Career Center and a tenured faculty member at Cincinnati State Technical and Community College. She has been a member of the CEIA Board since 2011 serving in the roles of President, Conference Chair, and Vice President of Marketing and Membership. Prior to this, she has played an active role including President of both the Ohio Cooperative Education Association (OCEA) and the Midwest Cooperative Education and Internship Association (MCEIA).
Kelly has been in the field of Cooperative Education for over 25 years working for both Northern Kentucky University and Cincinnati State. Her work has focused on higher education and workforce development. Her areas of specialty include career development, employer recruiting and hiring of talent for co-ops, internships, full-time and part-time employment.
She has also been actively engaged in quality assurance programs on campus including participation in Academic Quality Improvement Program (AQIP) systems portfolio review and Continuous Quality Improvement Program (CQIN) focusing on organizational sustainability.
Kelly graduated with an undergraduate degree in International Studies and History and obtained a Master's degree in Public Administration from Northern Kentucky University. In her time away from work, you can find Kelly with her husband Derick spending time in their favorite wine bar Crafts and Vines and cheering for the University of Kentucky in all sports!
---
Charles F. Kettering Award – Employer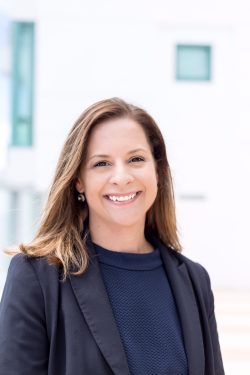 Teri-Anne Brennan is the current South Florida Group Talent Acquisition Manager at Enterprise Holdings, where she has worked for the last 16 years. As a Group Talent Acquisition Manager, she provides support to recruiters, field managers, and employees, and is responsible for all Talent Acquisition Initiatives – including forecasting hiring needs in a growing business, finding talent in all possible sources, negotiating contracts, and training and mentoring employees. She works with various student organizations, professors, athletic groups, and student groups at colleges across the state of Florida. She is passionate about helping students find their passion early on through hands on internship experiences that provide resources for long term career success. Working in the Talent Acquisition Profession with Enterprise allows her to combine her experience in the field with her passion for helping others find and achieve their career goals. She earned a Bachelor's Degree in Marketing from Florida State University – Go Noles! She is the current president of FloridaACE and has served on the board in various roles from 2013-current. She is the 2018 recipient of the FloridaACE President's Award.
---
The Cooperative Education Student Achievement Award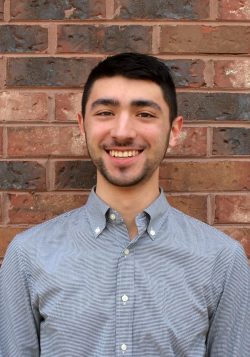 Adam Leung is currently a senior at Northwestern University majoring in Materials Science and Engineering. During his time at Northwestern, Adam has placed on McCormick School of Engineering's Dean's List six times, three of which have been noted with High Honors.
Adam's co-op experience was with Hollister Incorporated, an Illinois-based medical device manufacturer specializing in ostomy and continence care products. At Hollister, he worked within Technology Development on the improvement of skin adhesive polymer mixes. In Adam's first co-op rotation, he was primarily responsible for characterizing thermal and mechanical properties of these materials using laboratory equipment. However, his second co-op rotation coincided with the COVID-19 pandemic, moving his role online and delaying his in-person laboratory projects. Due to the new circumstances, Adam became involved with a new set of projects, including developing a product failure test simulating real-life use conditions and automating the visualization of customer satisfaction survey data with Python.
Adam plans to complete Northwestern University's joint BS/MS program and continue working with soft materials in applications that can improve healthcare on a large scale. Outside of his co-op and his classes, Adam is also the Vice President of Northwestern University's chapter of Materials Advantage, as well as the Project Manager of his school's Origami Club.
---
The Internship Student Achievement Award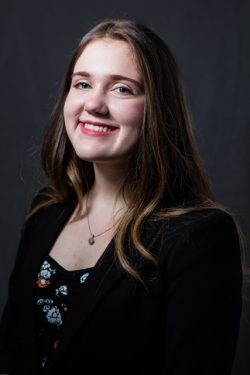 Grace Zimmerman is a senior undergraduate student at the University of Central Arkansas, majoring in Physics and minoring in Music. During the Summer of 2020, she interned with NASA Goddard Space Flight Center (GSFC) on the project 'Net Flux Radiometer for the Ice Giants (IG-NFR)', under the mentorship of Dr. Shahid Aslam of the GSFC Planetary Systems Laboratory. During this internship, she worked on generating spectral data for Uranus using atmospheric modelling simulators. She then wrote Python programs to simulate the behavior of the IG-NFR instrument when measuring the spectral data. By the end of the project, Grace had conducted a full sensitivity study of a specific channel of the IG-NFR, and was able to present her research at the Fall 2020 American Geophysical Union Conference. In addition, she was also one of nine GSFC interns to be named a John Mather Nobel Scholar. This honor included a one-on-one meeting with Nobel Prize winning astrophysicist Dr. John Mather, and funding towards presenting her research at future scientific conferences.
Before her Summer 2020 Internship, Grace interned at Georg Fischer Harvel, an engineered piping company in Little Rock, Arkansas. Following her Summer 2020 Internship, she began an internship with NASA Langley Research Center, where she started on the project 'On-Orbit Servicing, Assembly, and Manufacturing (OSAM) Architecture Simulation System (OASiS)'. In this on-going internship, she focuses on developing generic robotic guidance, navigation, and control systems for simulating robotic systems. At the University of Central Arkansas, Grace also takes part in stellar nucleosynthesis research under her mentor, Dr. Debra Burris.
After graduation, Grace plans on attending graduate school in Aerospace Engineering, with plans to continue her involvement in space exploration in her future career.
---
The Peggy Jarvie, University of Waterloo, International Work Experience Award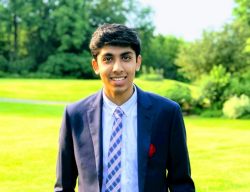 Ammar Kamran is a student of Computing & Financial Management (CFM) at the University of Waterloo (UW). Passionate about technology-enabled disruptions in finance, Ammar seeks the spark of software magic coupled with today's extraordinary data-explosion opportunity across all industry verticals.
In 2019, Ammar interned at Sarwa as a part of UW's acclaimed co-operative education program. As Dubai's and UAE's highest valued/funded FinTech startup, Sarwa is delivering Robo-Advisory services (comparable to Canada's WealthSimple) in the Middle East. The following year, Ammar interned as a software engineer at Dapi, a YCombinator FinTech startup from San Francisco, California and Dubai, United Arab Emirates. Ammar subsequently received UW's Presidential International Experience Award, in recognition for his contributions at Sarwa and his accomplishments in academic and extra-curricular contexts.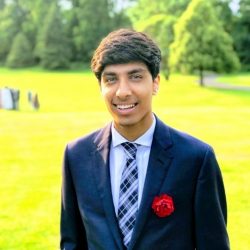 My name is Ayman Kamran. As a third-year student at the University of Waterloo (UW) studying Computer Science & Financial Management, I aspire to contribute to the 4th Industrial Revolution alongside future-fluent technology pioneers and disruptors.
Through UW's rigorous co-operative and work-integrated learning environment, I interned at the FinTech Hive at the Dubai International Financial Center. As the largest FinTech hub in the Middle East, Africa and South Asia, the FinTech Hive enabled me to discover the enrichment underlying the intersection of Finance, Technology and Entrepreneurship. I then interned as a Software Engineer at Dapi, a disruptive FinTech startup from Abu Dhabi Global Markets' (ADGM) Hub71xWeWork and Silicon Valley's YCombinator. Simultaneously, I was honored to be a student panelist for a youth-entrepreneurship webinar by Microsoft for Startups, sharing my experiences, insights and pursuits; it was a truly gratifying experience that enabled me to connect with young minds and seasoned leaders.
---
The Two-Year College Student Achievement Award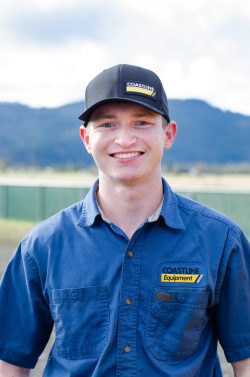 Greetings everyone! My name is Caleb Martin and I am currently enrolled in my second year of Linn Benton's Community College ,Construction and Forestry Technician Program. I was born and raised in the heart of Bakersfield California but I spent my childhood summers working on my grandparent's farm in the Midwest. It was there that I discovered my love and passion of being around heavy equipment and machinery. During my Senior year of high school I was fortunate enough to be selected to attend The Regional Occupational Center's (ROC) "Diesel & Agricultural Program". This program opened my eyes to the idea that my love of heavy equipment could become an actual career path. Through this program I received hands on training as well as lessons in workplace professionalism and job interview skills. During my time with the ROC program I earned a sponsorship through Coastline Equipment to attend Linn Benton's Construction and Forestry Tech Program. Coastline Equipment saw potential in me and loved my strong drive and determination. Immediately after my high school graduation I began working as an intern at Coastline Equipment. I worked there through the summer, saving up money for the C&F Tech Program through Linn Benton Community college located in Lebanon Oregon. I began my schooling with the C&F Tech program in Fall of 2019. It has been an amazing experience for me and I have received tremendous support and knowledge from the instructors at LBCC. Even with COVID 19 making normal school routines very difficult, LBCC has been amazing about creating a safe learning environment following the CDC guidelines. LBCC's Construction and Forestry Program has provided me with all the training and basic theory of electrical. hydraulics, powertrains, engines and technical diagnosing skills that have pathed the path to success in my new career! I would like to thank everyone for nominating me for this national award! I am beyond honored to represent Linn Benton Community college on a national level.
---
James W. Wilson Award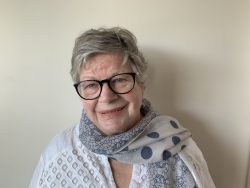 Emeritus Professor Janice Orrell has had a 50 year career in education. Since her retirement in 2019, she has retained an active academic role in higher degree supervision, research and publication at Flinders University. Work Integrated Learning (WIL) is a particular focus of her research and development activities along with assessment in higher education. She is a co-author of the book Work Integrated Learning: A Guide to Effective Practice (2010), and the author of the Office of Learning and Teaching commissioned WIL Good Practice Guide (2011). She was an advisory consultant to a 4 year project on Successful WIL in Science that was sponsored by the Australian Chief Scientist and the Australian Council of Deans of Science. Much of her current understanding of WIL is derived not only from research, but also from her consultations with Australian higher education institutions on WIL and its management. In 2016 she was presented with an Honorary Lifetime Membership of ACEN for her developmental work in WIL and in 2017 gained an Honorary Life-time Membership Award in HERDSA for her contribution to research and educational practice in higher education. The quality of partnerships between industry and higher education has been a focus throughout her career informed by roles such as supervisor of students on placement, employer representative on tertiary curriculum committees, graduate career counselling and as an academic developer preparing students, academics and employers for their respective roles in WIL. Her primary goal has been to foster recognition of the need for sustained, committed and reciprocal partnerships between universities and graduate employers to ensure quality education in which students engage in 'working to learn' rather than merely 'learning to work'.
---
Best Practice Current Award Recipients
MAGNET: The Manufacturing Advocacy & Growth Network, Cleveland, Ohio
Autumn Russell, Vice President Diversity & Economic Inclusion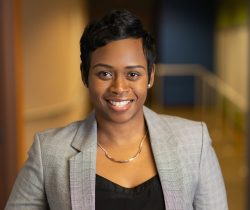 Autumn has spent fifteen years building systems to advance underserved groups, by focusing on the intersection of racial equity and institutional structures within Ohio's education sector. Her work extends state-wide, across local school districts, colleges and universities, and the Ohio Department of Education, where she helped shape education reform strategies.
As MAGNET's Vice President of Diversity and Economic Inclusion, she drives the organization's diversity strategy, and leads the company's flagship program, Early College Early Career (ECEC), the nation's only holistic youth pre-apprenticeship that links inner-city and rural high school students to careers in manufacturing.