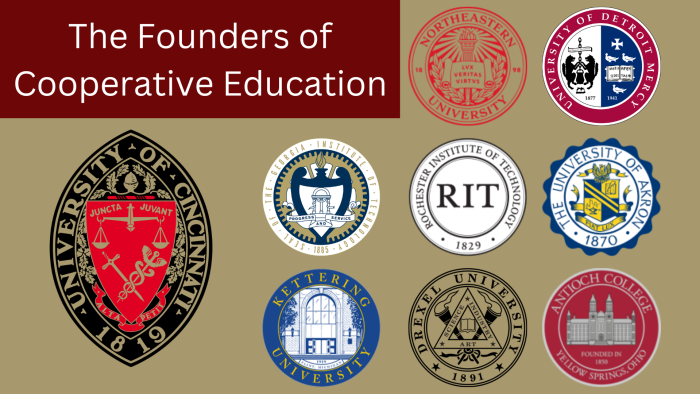 CEIA Celebrates 60 Years: The Founders of Cooperative Education
In 1906, Dean Herman Schneider from the University of Cincinnati founded cooperative education. Schneider concluded that the traditional classroom was insufficient for technical students.  His plan was soon followed by other Universities, which expanded the idea of Cooperative Education to other disciplines, such as business and liberal arts.
Today we celebrate the founding institutions of Cooperative Education. These organizations have provided over 100 years of real-world experience to students.
1906 – University of Cincinnati
1909 – Northeastern University
1911 – Georgia Institute of Technology
1912 – Rochester Institute of Technology
1914 – University of Akron
1919 – General Motors Institute, now named Kettering University
1919 – Drexel University
Reference:
Smollins, J.P. The Making of the History: Ninety Years of Northeastern Co-op. Northeastern University Magazine. Boston, MA: Northeastern University (Office of University Relations). May, 1999.
Categorized in: WIL Impact
This post was written by rich@ceiainc.org