Tips for Attending Conferences
Sage advice from seasoned professionals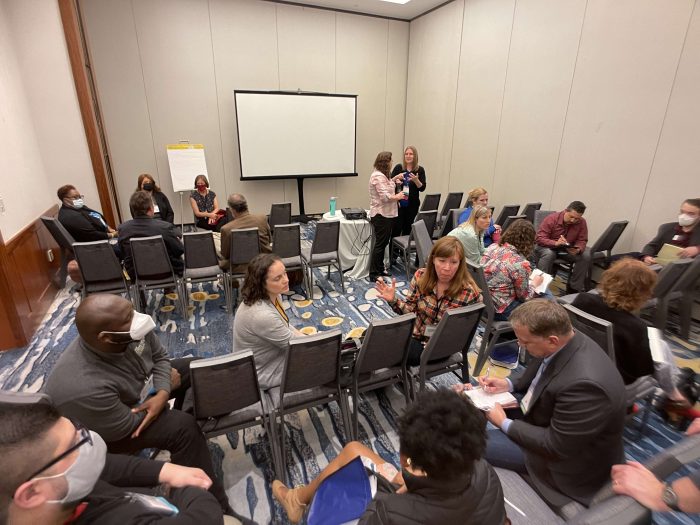 The following tips are meant to help new professionals and perhaps some of us older professionals get the most out of our conference experience. The tips cover a range of advice from timing, networking, preparing for the conference and pacing yourself.
• Be on time, even if you know others won't be. Your conference presenter may be a stickler for being prompt, and you may miss something important if you're late. It's also professional to be on-time and polite to the presenter.
• Volunteer to participate so that you get known by the community as someone they can call upon in the future.
• Review material in advance when possible. Prepare ahead of time about what you need to get from the conference and be dedicated about getting it.
• Don't go to absolutely everything – you will burn out. Be selective and hard core about what will really help you.
• If it's a meeting where group input will be solicited, recognize and respect the communication style others may have which may differ from yours.
• If you're the facilitator or chair, and one person is acting in a way that does not respect the communication style of others, find a way to control such behavior quickly.
• Make sure you sign in and check for up-dates and changes. The registration desk is a great resource for information.
• Type up notes IMMEDIATELY upon returning home.
• Take appropriate tools: paper, pen, and good hard candy (enough to share with next chair person).
• Turn off the cell phone and text messaging. It is OK to check those at breaks in some area away from other participants.
• Start with a lot of listening and ask good questions.
• Be warm, personable, a good listener, and enthusiastic. Treat all colleagues as if they may be someone that you may later seek a job from, want their vote on pertinent issue, or as someone you might later email for advice.
• Try to make two or three acquaintances that you can latter use as mentors when you need professional advice.
• Depending on your age and energy level, don't stay up all night and plan to sleep in the next morning. You are there primarily to learn. Playing is good but needs to be done in moderation. Whatever "late night activities" you engage in will always be someone's fond story about what you did the first time they met you. These can be fun and pleasant or they can haunt you for years to come.
• I suggest going to conferences under the impression you will be expected to report on them upon return to your employer. So take good notes, organize them, and offer to brief your boss or coworkers on what you learned so you will REALLY have to understand the material. Keep it all, file it away, and upon return, write a report on how the conference was beneficial and whether you would suggest it for other folks in the future—or if it was just a waste.
• The networking is as important as the sessions.
• Try to go to early morning coffee times, coffee breaks, and luncheon meetings for the networking.
• Go to tours and other activities as that is prime time for networking.
• Go into it proactively! "Be open" to meeting new people and socialize/network as much as possible.
• By being active and meeting people you may find a job opportunity.
Categorized in: Uncategorized
This post was written by rich@ceiainc.org