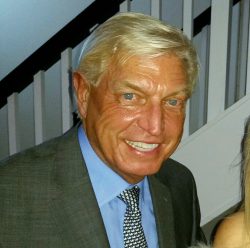 It is with a heavy heart that we announce the passing of Dave Rowe on August 29, 2022. He was a pioneering advocate for cooperative education dating back to the 1970's while working in Human Resources at A. C. Spark Plug, a division of General Motors Corp.  Rowe was a huge supporter of General Motors Institute (presently Kettering University)  even before it became an independent educational institute in 1982.  He later worked with GM corporate recruiting and HR at Delphi Corp. which broke off from GM. 
Rowe was actively involved in the Michigan Co-op Council and MCEA/MCEIA, presenting at conferences and meetings, representing the employer's side of co-op education.  A longtime supporter of CEIA, he was a true believer of co-op and the benefits it provided students, employers, and education alike. Over his long career he recruited, hired, and developed countless numbers of young people. 
One of Rowe's other passions was sailing and hanging out at his beloved Mackinac Island (Michigan) on his boat,  Wild Honey. After retirement he operated a sailing service cruising clients around the Straits of Mackinac.  He also served as Commodore of the Mackinac Island Yacht Club and served as president of the group, providing sailing opportunities for the Boy Scouts of America throughout the Great Lakes. 
Dave Rowe will be greatly missed by his many friends, his co-op students, and his family in and near his home of Flushing, MI (Flint area). CEIA is grateful for his ongoing support and friendship.
His full obituary can be found here: https://www.sharpfuneralhomes.com/obituary/David-Rowe
Categorized in: Uncategorized
This post was written by rich@ceiainc.org